Posted by The Certain Ones in Inspiration, Inspirational | 0 Comments
How to Overcome the Naysayers
Not all of us share the same enthusiasm and optimist towards new initiatives and challenges. Some people, labeled as "naysayers", will always find a flaw in your plan (s) and try to convince you to step back. Sometimes, is best to listen to them, but in most of the cases, their arguments are invalid and make you waste time and energy.
The first aspect you need to look at when dealing with naysayers is what options you have at hand. You can ignore or leave behind distant relatives, colleagues or friends, but you can never quiet down or run from close family members. Judging from this point on, there are some strategies to reduce or eliminate the impact of this state of mind in your life.
Long exposure to the company of people driven by negative thoughts can influence even to the most optimistic soul. Our permeability to the environment we live in is higher than we admit. Our dreams and aspirations can slowly die inside us if we are bombarded each day with denial and rejection. A human without things to dream at is half dead.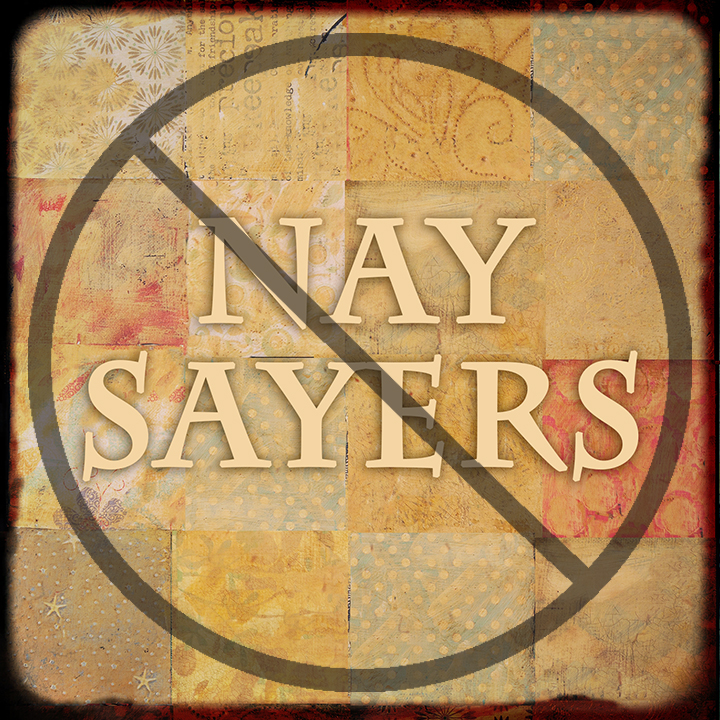 Words are the main weapons of the naysayers. Their claims and doubts are based only on elaborate verbal constructions that often include repetitions in order to enforce ideas. They invoke instinct as the main source for decision making and will always support the safe, traditional, conservative approach. If you respond using the same weapons, the battle is half lost. The time spent trying to prove them wrong will be subtracted from the available time needed to act according to your initial intentions. Words can only be beaten by facts so you should focus on accomplishing what you have in mind before criticism reaches deep inside your mind.
The described solution is not always at hand. You could have set a long term goal for yourself and see how at each hard step you make towards it, they bombard you with claims, questions, examples and counter examples. It is very though to continue in this way and a strategy is needed in order keep your dreams and desires intact. Understanding the factors in someone's life that ultimately make him/her to be a "naysayer" is something worth dealing with. At the root of that you'll find hate, fear or anger and conclude that negative feelings generate negative expectations. Uncertainty and disbelief about yourself is projected in all that others do and it becomes natural to consider that if you failed, others will fail too. All "naysayers" were rejected as some point in their life and this will make them try to invalidate as well, feeding on other's failure. The next time you complain about the drama of being surrounded by this kind of people, think about their own individual drama they are forced to carry around.
If you understand them, don't expect the same thing from them. Only time, your efforts, your results and a close negotiation with their ego can remove "no" from their minds. Accept the fact that "naysayers" have long forgotten to understand.
A more radical approach would be to rebel against any limits and restrictions impose by others. The "don't tell me what I can't do" works only if you feel strong enough to rely only on your resources and expertise in order to succeed. For example, if you are a child living with your parents and relying on them financially, claiming such independence is not something sustainable. If you can support your efforts and struggle, then leaving behind the influence of "naysayers" can be just the needed element in order to embark for success.
Faith is essential when dealing with constant stream of negativism oriented towards you. It can be faith in you, faith in a deity or simply the faith that there are equal chances and opportunities for all of us to succeed in this world. Faith needs to be trained and reestablished in order to stay alert and become of help. Each struggle can be minimized to the mental level. The success is full when the fight was taken beyond the point all around us and even inside us pointed towards "no".